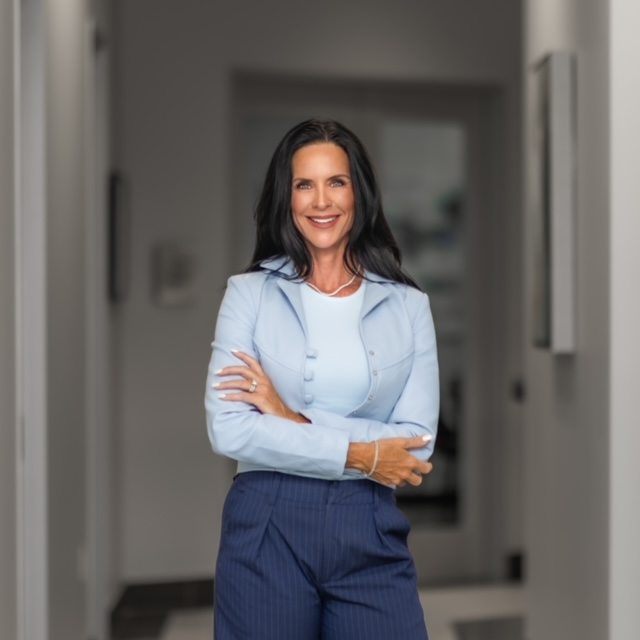 Terri DeNeui, DNP, APRN, ACNP-BC is the founder of EVEXIAS Health Solutions and creator of the EvexiPEL Method. She leads the EVEXIAS Medical Advisory Board, hand selecting leading experts from around the globe to support the education and knowledge resources that provide the opportunity to experience a whole new way to practice medicine that is truly transformational for patients and practitioners.
Dr. Terri DeNeui is a board-certified nurse practitioner, nationally renowned speaker, author, and entrepreneur. She holds advanced certifications in Hormone Replacement Therapy, Preventive Wellness Medicine, and Functional Medicine. Dr. DeNeui earned her bachelor's degree in nursing from Texas Women's University, and achieved both her master's and doctorate degrees in nursing from the University of Texas at Arlington.
Her career in medicine began as a hospitalist in emergency medicine, where Dr. DeNeui quickly realized that day in and day out, the focus was on disease management instead of disease prevention. She felt saddened and frustrated—she wanted to do more for patient care and for that, she had to know more.
This was the catalyst for what is now her life's work. She began to pursue extensive education in hormone optimization, integrative health, preventive care, and alternative medicine. It was in a lecture by physician and author of Awakening Athena, Dr. Kenna Stephenson, that she knew hormone therapy and integrative medicine pursuits would be how she would spend her career.
Dr. DeNeui founded Hormonal Health & Wellness in Southlake, Texas (now EVEXIAS Medical Centers) in 2008 as the first step in her new pursuit.  In her practice, Dr. DeNeui strives to help men and women find optimal health. Her success and the positive outcomes that her patients enjoy can be attributed to her thirst for knowledge. She says, "I will never stop asking questions. I will never stop seeking answers. If a patient is not achieving optimal results, we must ask more questions and uncover answers—sometimes answers we didn't know were there when we first asked the question. Medicine and science are ever evolving. We can never stop asking questions or seeking answers."
That thirst for knowledge led her to discover pellet therapy and the benefits of testosterone in women. Fifteen years ago, she traveled to Arizona to train with Gino Tutera, one of the pioneers of hormone pellet therapy. Her experience there led her to introduce pellet therapy into her practice and evolve her treatment methods. In a few short years, her methodology became renowned, evolving into a brand known today as the EvexiPEL Method. To date, thousands of practitioners have been trained and certified in the EvexiPEL Method and tens of thousands of patients are living happier, healthier, and better lives because of EvexiPEL.
In 2018, she partnered with researchers, pharmacists, and scientists at FarmaKeio Outsourcing, an FDA-registered outsourcing facility, to develop a proprietary pellet formulation. The pellet is has since become recognized for its uniqueness and received a U.S. patent in 2023.
When describing her hopes for her patients, Dr. DeNeui says, "At EVEXIAS, we believe in an integrated approach to wellness that includes not only education, but evaluation of the individual patient as a whole rather than just a specific problem that he or she may present."
When she's not seeing patients, Dr. DeNeui loves to spend time with her husband, their two dogs, their seven children, and four grandchildren. She also enjoys traveling anywhere near the water, drinking wine, reading books, and continuously researching.
Get Dr. Terri DeNeui's new book, Hormone Havoc!
With her expertise, you can turn hormone havoc
into hormone harmony.
About EVEXIAS Health Solutions
EVEXIAS Health Solutions is an emerging leader in the advancement of medicine toward a preventive care model that positively impacts the lives of patients and practitioners.
The EVEXIAS team has helped thousands of practitioners across the nation enhance patient care and expand their treatment plans through advanced medical education and training from industry-leading medical practitioners, researchers, and scientists, as well as providing access to leading-edge therapies and technologies that support the prevention of disease and improve quality of life. Every EVEXIAS program is backed by strategic business plans and operational practices exclusively developed for private medical practices to achieve the highest level of patient experience and outcomes for the practices served.  
Say goodbye to your hormone havoc! Find an EvexiPEL Certified Provider near you
Become an EvexiPEL Certified Provider and do more for your patients .